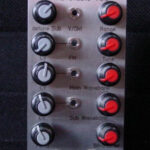 Wavetable VCO
Plays wavetables with 1V/Okt.
Plays two wavetables at same time: Main- and Suboszillator. Suboszillator is de-tunable, FM, portamento and bitcrusher on board. CV controllable wave morphing: smooth morphing in Mainoszillator and hard switching in Suboszillator, both are useful.
8bit sound, 30 waves.
Deep 60mm, 14hp, consumes +-30/25ma.
Es sind zwei Wellenbänke integriert und können simultan auf dem Main- und Subausgang ausgegeben werden. Jede Wavetable kann mit einer CV dynamisch ausgelesen werden. Es wird zwischen den Wellenformen interpoliert. Der Sound erinnert an einen PPG 2 oder Microwave 1, was auch der Grund war diesen Oszillator zu bauen. Die Programmierung stammt vom Electric Druiden.
Weitere Details:
8 Bit Auflösung, 32 Wavetables, Portamento, Range, Fine, zwei CV – Ins für die Waveforms, und den Bitcrusher, der von 8 auf 1 bit herunterbricht, damit kann man eine Menge an PWM und Krachsounds erzeugen, sehr interessant. Es können sehr reichhaltige und interessante Klanggemische erzeugt werden,
Für alle Anfragen steht ein Kontaktformular zur Verfügung.