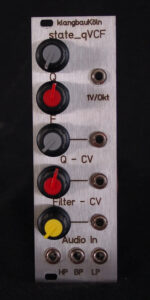 Classic state variable Filter with:  LP – BP – HP
Real state variable filter made with OTA´s. Every parameter is CV controllable even Q or Resonance. Filter sounds great and is very flexible, at max Q it´s oszillating with a clean sine wave, at BP out there is cosine wave at same time. It´s also a quadrature oscillator.
8hp / 40 ma
50 mm deep
DEMO of LP output of VCF:
(Listen to Q-CV modulation at the middle of track)
Fiter as VCO:
Tracking over a few octaves with CV- and Q modulation – no audio in!
Die wichtigen Features:
Das Filter klingt sehr gut, ist technisch voll ausgestattet und lässt keine Wünsche offen.
Filter wurde für ein Seminar an der KHM in Köln entwickelt. Ich habe versucht nicht nur ein Filter sondern auch einen Sinusoszillator zu bauen. CV-modulation der Güte kann vocal artige Klänge erzeugen. Voll DC gekoppelt ermöglicht das verarbeiten von CV Signale. 
Kurzdaten:
Spezial:  Koppelt vollständig zurück und kann dann als Sinusoszillator verwendet werden (Amplituden stabiler, klirr armer Sinus!).
Spezial:  Resonanz ist Spannungssteuerbar (Q – CV)!!
Spezial: Spannungs- Impulse am Audio-In ermöglichen  das Filter bei hoher Güte zur Eigenschwingung anzuregen, man spricht dann von einer Ping- oder Ringing-oszillation. Das wird durch die durchgehende DC-koppelung und der Normalisierung des Audio-In auf CV-In erreicht
8 TE, 40ma
50mm Tiefe